Advanced Medium Combat Aircraft
#GS3 #Science&Technology
Context:
According to certain sources from Aeronautical Development Agency (ADA), the configuration for the fifth-generation Advanced Medium Combat Aircraft (AMCA) has been frozen and preliminary design completed.
Advanced Medium Combat Aircraft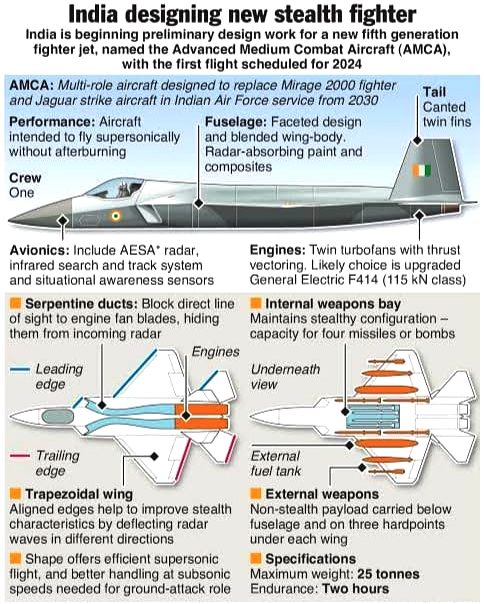 The AMCA is an aircraft program to produce fifth to sixth generation fighter aircrafts for the Indian Air Force and the Indian Navy.

Design: Aeronautical Development Agency (ADA), Defence Research and Development Organisation (DRDO).

The AMCA will have geometric stealth capability, different from material stealth feature.

Material stealth system uses radar to absorb the radio waves thus reducing the radar footprint.
In geometric stealth system, the aircraft is designed in such a way that there are certain angles in its design to deflect radar waves.

Hence, the aircraft will have low radar cross section. The chances of detecting the aircraft presence becomes minimal.

AMCA is a progression from the LCA Tejas.
Aeronautical Development Agency
It is a Society under the Department of Defence Research and Development, Ministry of Defence.

Objective: To undertake, aid, promote, guide, manage, co-ordinate and execute research in aeronautical science, design and development of various types of aircraft and rotorcraft.

It was entrusted with the design and development of a multirole Light Combat Aircraft.
blog comments powered by

Disqus