National Intelligence Grid (NATGRID)
#GS3 #Security
Context
National Intelligence Grid or NATGRID that aims to provide a "cutting-edge technology to enhance India's counter-terror capabilities" is expected to be launched soon.
NATGRID
26/11 Mumbai attack exposed the vulnerabilities in Indian Intelligence gathering and action networks. In the aftermath of this, a decision was taken to build an integrated intelligence grid which will connect databases of core security agencies.

NATGRID is the centralised data access solution for security and intelligence agencies. The primary objective of NATGRID is to gather comprehensive patterns of intelligence that can be readily accessed by intelligence agencies.

It will link agencies like the Intelligence Bureau, local police, and revenue and customs departments with database that would be procured from multiple organisations.

NATGRID will have access to National Crime Records Bureau (NCRB) data under an MoU signed among these institutions. This will enable access to FIRs and reports on stolen vehicles.
Central agencies that can access the combined data:
Directorate General of Central Excise Intelligence, Central Board of Excise and Customs, Narcotics Control Bureau, Enforcement Directorate, Directorate of Revenue Intelligence, Central Board of Direct Taxes, Financial intelligence unit, Central Bureau of Investigation, the Intelligence Bureau and the Research and Analysis Wing.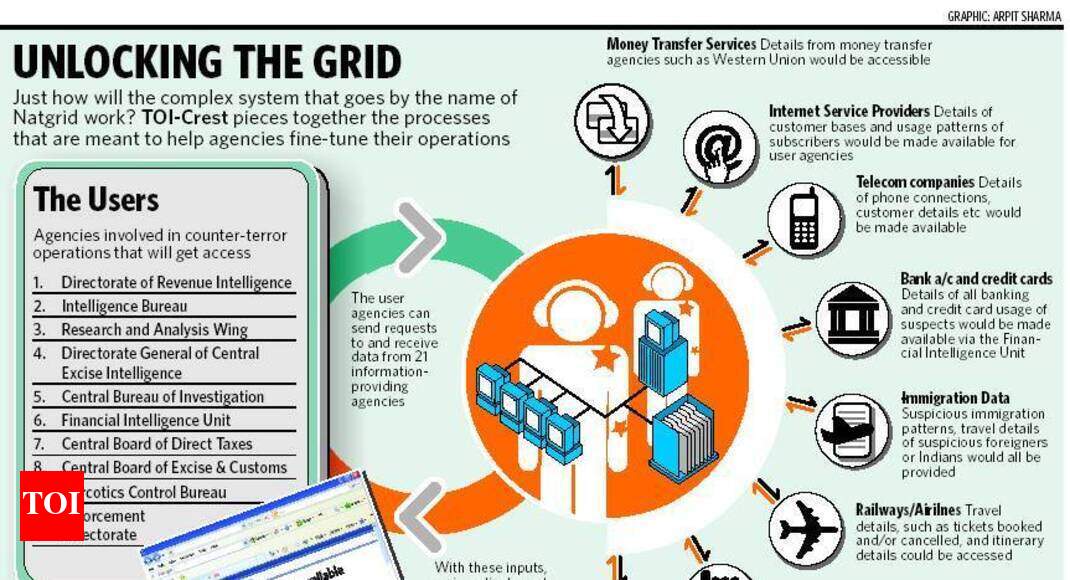 Concerns
There is a possibility that it would impinge on the territory of intelligence agencies and result in intelligence leaks.

The efficiency of the project was questioned as state agencies or police force do not has access to its database.
blog comments powered by

Disqus