Eye in the sky to watch Maharashtra mangroves
#GS3 #ENVIRONMENT #MANGROVES
News info:
The Maharashtra Mangrove Cell has planned to accumulate a drone and found out a CCTV camera network across the MMR to stay an eye fixed on mangrove destruction by debris and land mafia.
Mum biodiversity Bachao campaign
In an discussion hosted by NGO NatConnect Foundation, additional principal chief conservator of forests, Mangrove Cell, said the consultancy firm, Ernst & Young, would perform a survey.

The NGO has launched a social media campaign #MumbiodiversityBachao.
BIASA BASICS
Mangroves
Mangroves are the plant communities occurring in inter-tidal zones along the coasts of tropical and subtropical countries.

Mangrove forests perform multiple ecological functions like -

Production of woody trees;

Provision of habitat, food, and spawning grounds for fin-fish and shellfish;

Provision of habitat for birds and other valuable fauna;

Protection of coastlines and accretion of sediment to make new land.

Mangroves are a various group of salt-tolerant plant communities of tropical and subtropical regions of the world which may survive the limiting factors imposed by lack of oxygen, high salinity and diurnal tidal inundation.

consistent with Champion & Seth Classification (1968) Mangroves are included in Type Group-4 Littoral & Swamp Forests.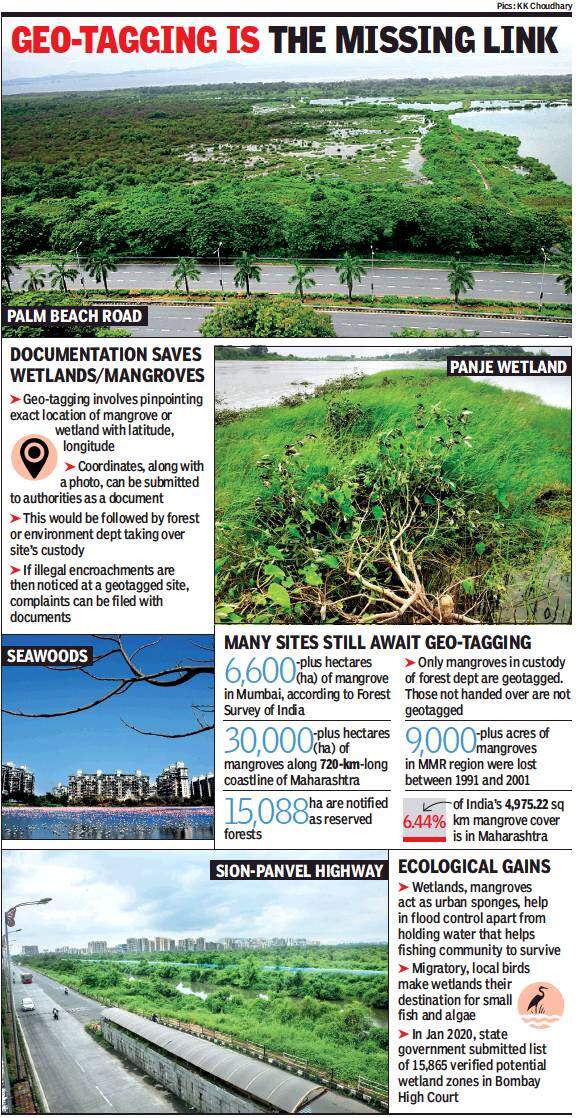 Mangroves cover in India
Consistent with the India State of Forest Report, 2019, Mangrove cover within the country has increased by

1.10% as compared to the previous assessment.

About 40% of the world's Mangrove Cover is found in South East Asia and South Asia.

The mangrove cover in India is 4,975 sq km, which is 0.15% of the country's total geographic area .

Increase within the mangrove cover as compared to 2017 assessment: 54 sq km

Among the states and UTs, West Bengal has the very best percentage of area under total Mangrove cover followed by Gujarat and Andaman Nicobar Islands.
Importance of Mangroves
Mangroves have a complex root system which is extremely efficient in dissipating the ocean wave energy thus protecting the coastal areas from tsunamis, storm surge and erosion .

Their protective role has been widely known especially after the devastating Tsunami of 2004.

Mangrove roots hamper water flows and enhance sediment deposition.

Therefore, they act as a zone of land accretion thanks to trapping of fine sediments including heavy metal contaminants. They also arrest coastal erosion and sea pollution .

They act as a fertile tract for several fish species and other marine fauna.

They act as a crucial source of livelihood for the coastal communities hooked in to collection of honey, tannins, wax and fishing.

Mangroves are important carbon sink.
SOURCE: THE HINDU
blog comments powered by

Disqus