Light Combat Aircraft (LCA)-Mk2
#GS3 #Science&Technology
Context
According to certain sources from Aeronautical Development Agency (ADA), the configuration for the Light Combat Aircraft (LCA)-Mk2 has been frozen and steel cutting is expected to begin soon.
Light Combat Aircraft (LCA)
The Light Combat Aircraft (LCA) program was started with the intention to replace the ageing Mig 21 fighter planes.

Design : Aeronautical Development Agency, Defence Research and Development Organisation (DRDO).

Manufactured by: Hindustan Aeronautics Limited (HAL).
Features:
It is a light, small and tailless multi-role supersonic fighter aircraft.

The LCA is designed to operate air-to-air, air-to-surface, precision-guided, weapons.

It is capable of Air-to-air refueling.

Up to payload 3,500 kg capacity.

Maximum speed: Mach 1.8.

Range: 3,000km
Variants of Tejas:
Tejas Trainer

LCA Navy

LCA Tejas Navy MK2

LCA Tejas Mk-1A
LCA-Mk2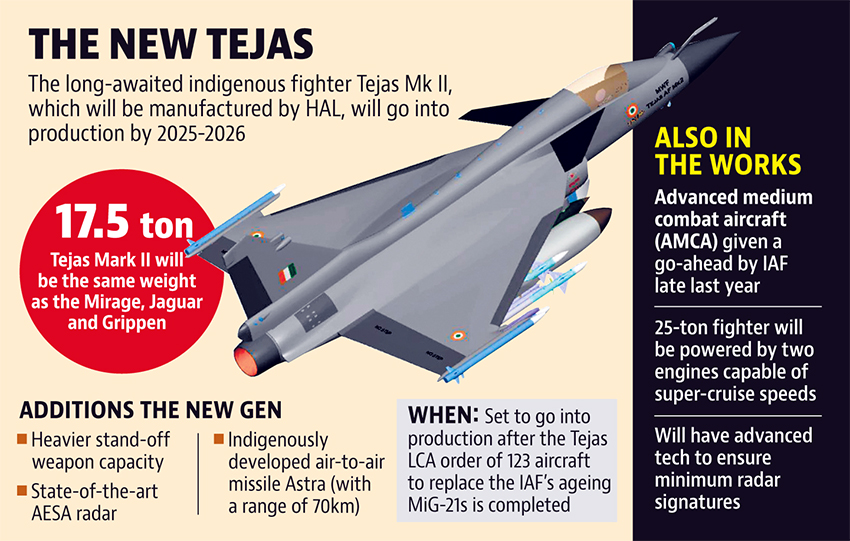 Features:
Enhanced range and endurance

Onboard oxygen generation system

1,350 mm longer

Max. payload: 6,500 kg
Aeronautical Development Agency
It is a Society under the Department of Defence Research and Development, Ministry of Defence.

Objective: To undertake, aid, promote, guide, manage, co-ordinate and execute research in aeronautical science, design and development of various types of aircraft and rotorcraft.

It was entrusted with the design and development of a multirole Light Combat Aircraft.
blog comments powered by

Disqus