Factory output growth decelerates: PMI
#GS3 #ECONOMY # INDEXES
Context:
IHS Markit survey shows April production, new orders expansion at 8-month lows on COVID surge

India's manufacturing sector activity was largely flat in April, as rates of growth for new orders and output eased to eight-month lows amid the rise in COVID-19 cases, a monthly survey showed.

The seasonally adjusted IHS Markit India Manufacturing Purchasing Managers' Index (PMI) was at 55.5 in April, little changed from March's reading of 55.4.

In PMI parlance, a print above 50 means expansion while a score below 50 denotes contraction.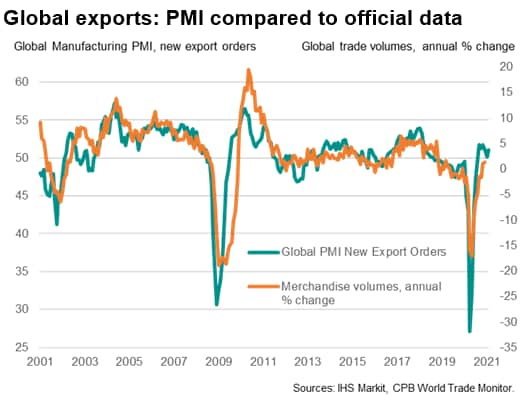 Surging input costs
On the prices front, survey participants also signalled a steep increase in input costs, the quickest since July 2014, and upward revisions to selling prices.

April saw the steepest increase in input costs for nearly seven years drive the sharpest upturn in output charges since October 2013.

While output and sales increased at the slowest rates since last August due to an intensification of the COVID-19 crisis, there was a faster upturn in international orders.

New export orders increased for the eighth consecutive month in April and at the fastest rate since October 2020.

The rise was associated with a pick-up in international demand for Indian goods.

On the job front, although manufacturing employment continued to fall, the rate of contraction recorded in April was marginal and the weakest in the current 13-month sequence of job shedding.
BIASA BASICS
About Purchasing Managers' Index (PMI)
It is an economic indicator that is calculated from monthly surveys of purchasing managers and supply executives from specific companies.
The Purchasing Managers' Index (PMI) data are compiled by IHS Markit for more than 40 economies worldwide.
The PMI dataset features a headline number, which indicates the overall health of an economy, and sub-indices, which provide insights into other key economic drivers such as GDP, inflation, exports, capacity utilization, employment and inventories.
The Purchasing Managers' Index is based on five major indicators are new orders, inventory levels, production, supplier deliveries and the employment environment.
Significance of Purchasing Managers' Index (PMI)
The PMI Manufacturing gives an indication of the economic health of the manufacturing sector.
The investors use PMI surveys as leading indicators of economic health, given their insight into sales, employment, inventory, and pricing.
The purchasing managers' index is an extremely important indicator for international investors looking to form an opinion on economic growth.
To understand in deep about the PMI INDEX SUBSCRIBE to our youtube channel:
Calculations:
The latest composite PMI decreased to 49.8 in September 2019 from 52.6 in August 2019.

The PMI is a number from 0 to 100.
○ PMI above 50 represents an expansion when compared to the previous month;
○ PMI under 50 represents a contraction, and
○ A reading at 50 indicates no change.
○ If PMI of the previous month is higher than the PMI of the current month (as is the case mentioned above), it represents that the economy is contracting.
○ The PMI is usually released at the start of every month. It is, therefore, considered a good leading indicator of economic activity.
Purpose
● To provide information about current and future business conditions to company decision-makers, analysts, and investors.
● As the official data on industrial output, manufacturing and GDP growth comes much later, PMI helps to make informed decisions at an earlier stage.
SOURCE: THE HINDU
blog comments powered by

Disqus