DRDO tests enhanced range Pinaka rocket
#GS3 #DEFENCE SYSTEMS
In News,
The Defence Research and Development Organisation (DRDO) recently successfully test-fired the improved range versions of the Pinaka rocket.
Important Points: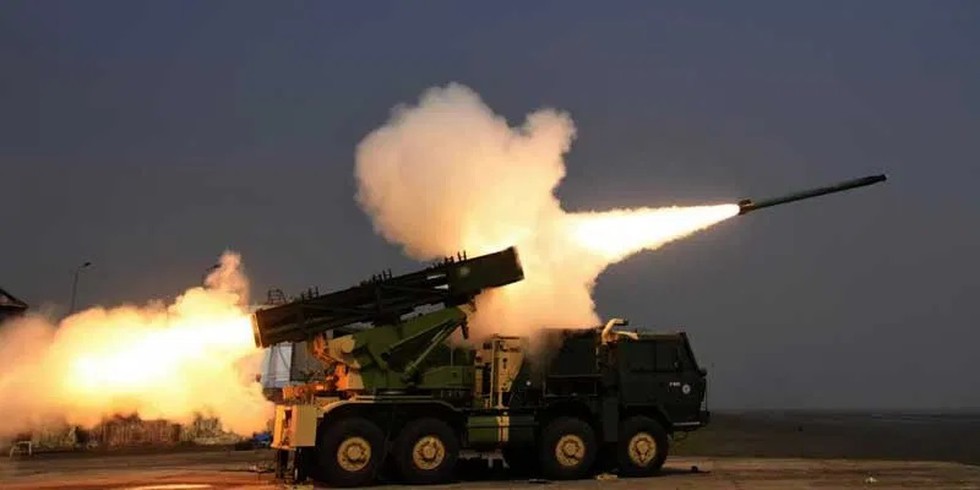 Test-fire was conducted from a Multi-Barrel rocket launcher (MBRL) at integrated test range, Chandipur in Odisha.

Four enhanced range versions of 122mm rockets were test-fired with full instrumentation and that they met the entire mission objectives.

These rockets are developed for Army applications and may destroy targets up to 40 km.

The enhanced range version of the Pinaka rocket system can destroy targets at distances up to 45 kms.

This enhanced rocket system would replace the prevailing 122mm Grad rockets.

DRDO stated that 25 enhanced Pinaka rockets were launched in quick succession against targets at different ranges.

Both the Pinaka and the 122 mm rockets were developed by the Pune-based Armament Research and Development Establishment and High Energy Materials lab with manufacturing support from Economic Explosives Limited, Nagpur.
BIASA BASICS
PINAKA Multi Barrel rocket launching System (MBRLS):
The Pinaka Multi Barrel rocket launching System (MBRLS) designed and developed by agencies under DRDO, is an all-weather fire artillery rocket system.

It was effectively used during the Indo-Pakistan conflict in Kargil in June 1999 (Op Vijay).

The system is capable of firing free flight also as guided Pinaka rockets.

Currently, the free flight Pinaka rockets can engage targets up to 37.5 km (Pinaka Mk-I) and 60 km (Pinaka Mk-II) range whereas guided Pinaka rockets can engage targets located deep into enemy territory up to a range of 75 km with high precision.

The rockets are often fitted with a good range of warheads, including explosive , anti-tank bomblet, anti-personnel mines etc.

The weapon system with Mk-I rockets has been inducted into Services and currently under bulk production.

Two regiments of Pinaka are inducted and have become fully operational in 2010.

The next two regiments are under induction. the military has decided to induct a total of twenty-two regiments and 1.89 lakhs rockets.
Role of Pinaka:
Neutralization or destruction of exposed troop concentrations, 'B' vehicles and other soft targets.

Engagement of enemy concentration areas, communication centres, airport terminal complexes, armour and mechanized concentrations.

Neutralization of enemy guns, rocket and missile launcher locations.

Deny movement of enemy personnel and armored vehicle columns.

Destruction of FOL and ammunition dumps.
Types of Pinaka:
Pinaka Mk-I: the assembly of the Pinaka weapon commenced in 2006.
Pinaka is the first example of DRDO private industry partnership which culminated into production.

Various warhead kinds like Fragmentation explosive , Incendiary, Anti-Tank and Anti-Personnel minelettes etc.
Pinaka Mk-II: An enhanced version of Pinaka; up to 90 km range Pinaka Mk-II Rocket System has been developed with various contemporary technologies compatible with Pinaka ground system.
Based on the technologies established for the Pinaka Mk-II rocket, the development of Pinaka Mk-I (Enhanced) having a range of 45+ km is being progressed. (Which was tested recently with a moving multi-barrel launch system).
Guided Pinaka: Guided Pinaka rocket is capable of striking targets located deep into enemy territory up to a variety of 75 km with precision.
It is configured using the system developed for the Pinaka Mk-II rocket.

Guided Pinaka rocket is controlled and guided from lift-off to impact and manoeuvred continuously.

The main aim of guided Pinaka is to satisfy the need of highly accurate weapons with enhanced lethality and low fatal accident .
SOURCE: THE HINDU
blog comments powered by

Disqus