Delimitation Commission
#GS2 #POLITY #TERRITORY
Context:
Recently, the Delimitation Commission held a gathering with the Associate Members from Union Territory of Jammu and Kashmir.Delimitation Commission

The meeting was conducted to hunt suggestions or views on the method of delimitation in respect of Union Territory of Jammu and Kashmir.
Background:
The Delimitation Commission was constituted to delimit the constituencies of Jammu and Kashmir in accordance with the provisions of the Jammu and Kashmir Reorganization Act, 2019 and Delimitation Act, 2002.

After the bifurcation of J&K into two UTs the necessity to redraw the Assembly constituency boundaries has been felt .
About delimitation:
Delimitation is that the act of redrawing boundaries of Lok Sabha and Assembly seats to represent changes in population.

In this process, the amount of seats allocated to a state can also change.

The objective is to provide equal representation for equal population segments, and a fair division of geographical areas, in order that no political party has an advantage.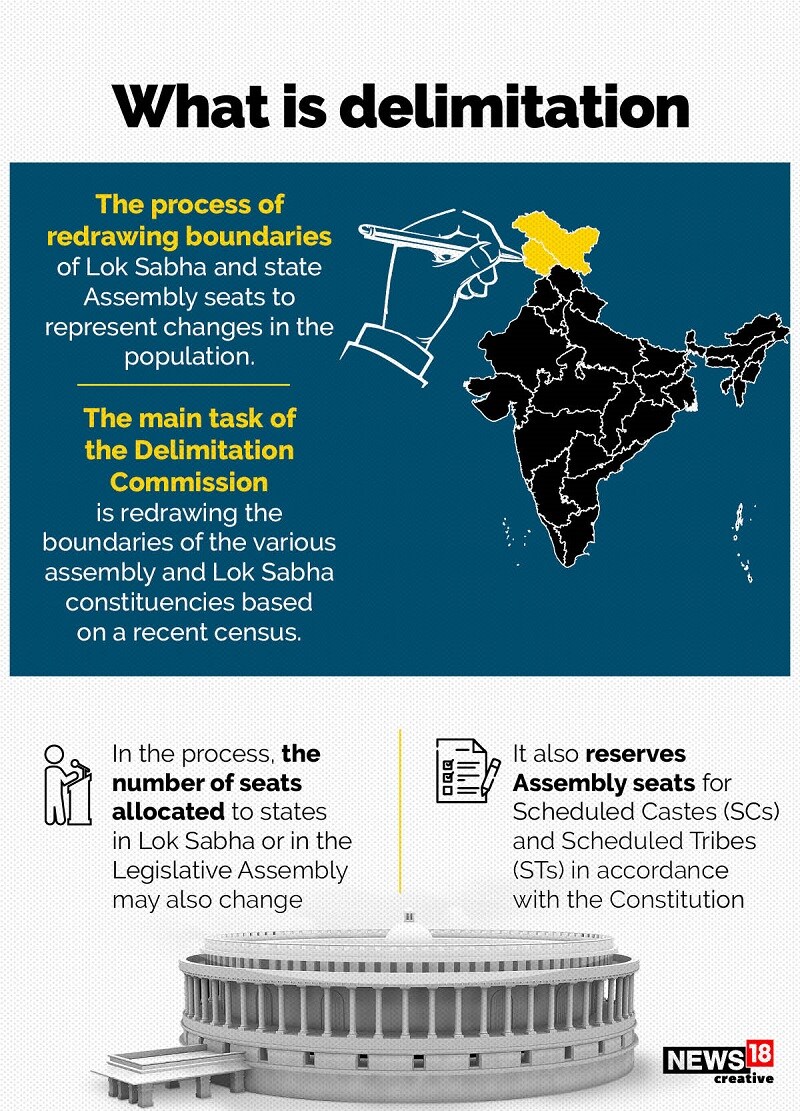 Constitutional provisions:
Article 82: It provides for the enactment of a Delimitation Act after every Census by the parliament.

Article 170: The States also get divided into territorial constituencies as per Delimitation Act after every Census.

The Union government sets up a Delimitation Commission once the Act is effective .

For this delimitation exercise, the population figures of the 2011 census shall be taken because the basis.
Composition:
Exercise administered by: Delimitation Commission or Boundary Commission.
Composition: consistent with the Delimitation Commission Act, 2002, the Delimitation Commission appointed by the Centre has got to have three members:
Chairperson: A serving or retired judge of the Supreme Court.
Ex-officio members: The Chief Election Commissioner or Election Commissioner nominated by the CEC and therefore the State Election Commissioner.
The orders of the commission:
Have the force of law and that they can't be challenged before any court.

Enforcement of commission's order is undertaken as per the date specified by the President of India.

The copies of those orders are laid before the Lok Sabha or the concerned legislature and no modifications are permitted.
SOURCE : THE HINDU
blog comments powered by

Disqus