Nurturing Neighborhood Challenge.
#Gs-2 # Governance.
Context
The Ministry of Housing and Urban Affairs shortlisted 25 cities for the 'Nurturing Neighborhoods Challenge'. This challenge is covered under the Smart Cities Mission.
About
It is a three-year initiative hosted by the Smart Cities Mission, Ministry of Housing and Urban Affairs, in collaboration with the Bernard van Leer Foundation and World Resources Institute (WRI) India.

All cities with a population above 5 lakhs are eligible to participate Nurturing Neighbourhood o
Purpose
The challenge aims to enable Indian cities to focus on early childhood development (0-5-year-old children). The focus will incorporate into the planning and management of Indian cities.
Objectives
Promote early childhood centric approach among Indian cities.

Facilitate demonstration of early childhood centric solutions.

Catalyse cities to the mainstream and implement solutions in the longterm.

Develop a peer to peer network of nurturing cities.

Collect and analyse data related to young children and their caregivers.
Who can apply?
The challenge is open to all Smart Cities, capitals of States and UTs, and other cities with a population above 5 lakhs
Cities Selected under the challenge:
The following cities have been selected for the Challenge:
Agartala, Bengaluru, Coimbatore, Dharamshala,Erode, Hubballi, Hyderabad, Indore, Jabalpur, Kakinada, Kochi, Kohima,Kota, Nagpur,Rajkot, Ranchi, Rohtak, Rourkela, Salem, Surat,Thiruvananthapuram, Tiruppur, Ujjain, Vadodara and Warangal.
Benefits to Selected Cities.
Cities will receive technical assistance and capacity building. It will be helpful to develop, pilot and scale solutions that enhance the quality of life of young children.

Over time, the programme will enable cities to incorporate a focus on early childhood development into the planning and management of Indian cities.
Railways impetus a major boost for RuPay cards
#GS-3 #ECONOMY
The 12.54 lakh workforce of the largest employer in India to migrate from Visa, MasterCard gateways.
RuPay
Rupay is a domestic card scheme of India. The card has Magnetic stripe (for Backward compatibility) and an EMV chip. The RuPay card is now accepted at all ATMs, Point-of-Sale terminals and most online merchants in the country. More than 300 cooperative banks and Regional Rural Banks (RRBs) in the country have also issued RuPay ATM cards.
Product of the National Payments Corporation of India, an umbrella organisation that facilitates retail payments and acclaimed to be India's first-of-its-kind global card payment with wide acceptance across ATMs, e-commerce platforms and POS machines.

The scheme was approved by the Controller General of Accounts, Department of Expenditure, Ministry of Finance, keeping in view the government's impetus for proliferation of RuPay Card.

Ministry had requested the SBI to convert the existing Imprest Card into SBI RuPay Card.
NPCI.
The National Payments Corporation of India (NPCI) serves as an umbrella body for the operation of retail payment in India. This organisation was established by the Reserve Bank of India along with the Indian Bank's Association. NPCI was incorporated in December 2008 and was centrally promoted by the Reserve Bank of India. The Certificate of Commencement of Business was issued in April 2009.
Presently, NPCI is promoted by ten major promoter banks:
State Bank of India

Punjab National Bank

Canara Bank

Bank of Baroda

Union Bank of India

Bank of India

ICICI Bank

HDFC Bank

Citibank

HSBC
Regulatory Members Of NPCI:
Headquartered in Mumbai, the National Payments Corporation of India is an organisation registered under section 8 of the Companies Act 2013.
The regulating board of NPCI consists of the following members:
Biswamohan Mahapatra as the Non-Executive Chairman

Nominees from Reserve Bank of India (RBI)

Nominees from ten core promoter banks.
Currently, Dilip Asbe is the current managing director and chief executive officer of NPCI.
Objectives of NPCI:
The National Payments Corporation of India (NPCI) was under the support of Reserve Bank of India (RBI) and Indian Banks' Association (IBA) with an aim of consolidating and integrating various systems into nation-wide uniform and standard business process that can be used as a retail payment system. Another major objective of NPCI was facilitating an affordable payment system that can help the common people during financial inclusion.
Under the PSS Act, 2007 as per the authorization of RBU, NPCI can operate the following payment systems:
National Financial Switch (NFS)

Immediate Payment System (IMPS)

Affiliation of RuPay Cards (debit cards/ prepaid cards) issued by banks and co-branded credit cards issued by non-banking financial companies (NBFCs) or any other entity approved by the RBI.

National Automatic Clearing House (ACH)

Aadhaar Enabled Payments System (AEPS)

Operation of Cheque Truncation System
Products of NPCI:
Some of the current products that were launched under the National Payments Corporation of India are discussed below:
RuPay: It is a domestic card scheme of India that has a magnetic stripe along with an EMV chip. The card is now accepted at all ATMs and has been issued by 300 cooperative banks and Regional Rural Banks (RRBs) in India. (Get the list of RRBs in India in the linked article.)
National Common Mobility Card: Also known as Rupay Contactless card, it is a contactless payment technology which allows the cardholders to use their card in the contactless payment terminals without the need to physically swipe or insert the card.
Bharat Interface for Money (BHIM): Bharat Interface for Money (BHIM) is a mobile payments application based on NPCI's Unified Payments Interface (UPI). It provides the facility to easily send or receive money from other customers using the UPI. To know more in details on BHIM, refer to the linked article.
Unified Payments Interface (UPI): Unified Payments Interface (UPI) was introduced on 11th April 2016 as an instant inter-bank payment system. This payment system was developed to provide a mobile platform for instant transfer of funds between two bank accounts. To know more about Unified Payments Interface, refer to the linked article.
Bharat Bill Payment System: The Bharat Bill Payment System is an initiative taken by NPCI along with the Reserve Bank of India (RBI) for payment of all bills which will provide an interoperable and accessible bill payment service to its customers.
National Payments Corporation of India is an initiative of the Reserve Bank of India and the Indian Banks' Association. Its Immediate Payment Service (IMPS) has enabled India to become the leading country in the world in real-time payments in the retail sector.
Saka Nankana Sahib, And Why It Matters In Sikh History.
#Gs-1 # Art And Culture.
Context:
Nankana Sahib, the birthplace of first Sikh guru, Guru Nanak Dev, was also the site of the first big agitation by the SGPC to take back control of gurdwaras from mahants backed by the British.
The centenary of Sri Nankana Sahib massacre, which is popularly known as Saka Nankana Sahib, is being marked in an event there on February 21 this year.
Efforts to free Nankana Sahib:
The SGPC came to existence in November 1920, a month after Sikhs removed partial restrictions on Dalit rights inside Golden Temple in Amritsar.

It started a gurdwara reform movement which was aimed at taking possession of historical Sikh Gurdwaras, which had turned into personal property of the priests, who were called mahants. These mahants were also accused of running practices from gurdwaras which were not approved in Sikhism.

Sikh leaders made attempts to bring mahant to the negotiation table but their efforts failed.
The February massacre:
Meanwhile, all the mahants and other groups, who were in control of Sikh gurdwaras, also organised themselves and started holding meetings against any move of the SGPC to take control away from them.
They called "Sikh Sanatan Conference" in Lahore on February 19, 20 & 21, 1921. Some motivated Sikh leaders took it as an opportunity to take control of the Gurdwara Nankaka Sahib as Mahant Narain Das would be busy in Lahore.
The unarmed Sikh jatha entered inside the gurdwara and with a plan to take possession of the gurdwara in a non-violent manner.
On the other side, the mahant was all prepared for an armed attack and he leashed his men equipped with firearms, sticks and sharp-edged weapons on this jaths.
Taking control of the gurdwara:
After the incident, Mahant Narain Das ran away, while the British police arrested 26 Pathans and sent them to Lahore in a special train. The incident, however, created an impression among Sikhs that the British government had played a hidden part in this massacre.

Mahatma Gandhi reached Nankana Sahib on March 3, 1921. Gandhi said that the British government was part of this massacre. He also said that the cruelty of this massacre was more than that of Jallianwala Bagh.
SGPC movement takes first political turn:
The British government also arrested Mahant Narain Das. Meanwhile, SGPC formed its own probe team and asked Mahatma Gandhi to be part of it. Gandhi asked Sikh leaders to give support to the non-cooperation movement of the Congress party.
SGPC joining non-cooperation movement angered British:
The British government was not amused with the decision of SGPC leadership to be part of a political movement.

Sikh leaders Kartar Singh Jhabbar, Teja Singh Bhuchar, Tara Singh Thethar, Bhai Lakha singh and others were arrested from Nankana Sahib for allegedly taking illegal control of gurdwaras on March 15, 1921.

In May 1921, SGPC asked Sikhs to wear black clothes and turbans as protest against British government.

However, Nankana Sahib Gurdwara agitation was just a big leap in Gurdwara Reform movement followed by Guru Ka Bagh Morcha and other agitations till Sikh Gurdwara Act came into existence in 1925.
Ease path for businesses
#Gs-2 # Niti Aayog
Context:
States to take advantage of Central schemes such as the production-linked incentive scheme to attract investments.

States had a 40% share in the National Infrastructure Pipeline and therefore, it was imperative that the States and the Centre synergise their budgets, make plans, and set priorities.

States should work to reduce compliance burden, PM says at sixth meeting of the NITI Aayog Governing Council.
NITI Aayog:
The Government, in January 2015, replaced Planning Commission with NITI Aayog (National Institution for Transforming India).
Aim:
Achieve Sustainable Development Goals and to enhance cooperative federalism by fostering the involvement of State Governments of India in the economic policy-making process using a bottom-up approach.
Role of NITI Aayog:
The institution has to provide governments at the central and state levels with relevant strategic and technical advice across the spectrum of key elements of policy. This includes matters of national and international import on the economic front, dissemination of best practices from within the country as well as from other nations, the infusion of new policy ideas and specific issue-based support. The institution has to be able to respond to the changing and more integrated world that India is part of it.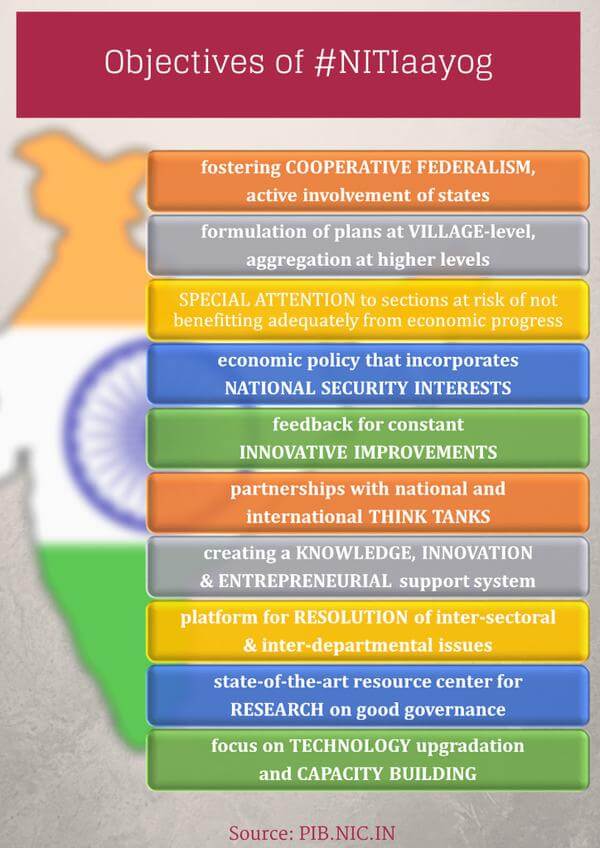 Composition of NITI Aayog:
Chairperson: Prime Minister of India as the Chairperson.
Governing Council comprising the Chief Ministers of all the States and Lt. Governors of Union Territories.
Regional Councils will be formed to address specific issues and contingencies impacting more than one state or a region. These will be formed for a specified tenure.
The Regional Councils will be convened by the Prime Minister and will comprise of the Chief Ministers of States and Lt. Governors of Union Territories in the region. These will be chaired by the Chairperson of the NITI Aayog or his nominee.
Experts, specialists and practitioners with relevant domain knowledge as special invitees nominated by the Prime Minister.
The full-time organizational framework will comprise of, in addition to the Prime Minister as the Chairperson:
Vice-Chairperson: To be appointed by the Prime Minister.
Members: Full-time.
Part-time members: Maximum of 2 from leading universities research organizations and other relevant institutions in an ex-officio capacity. Part time members will be on a rotational basis.
Ex Officio members: Maximum of 4 members of the Union Council of Ministers to be nominated by the Prime Minister.
Chief Executive Officer : To be appointed by the Prime Minister for a fixed tenure, in the rank of Secretary to the Government of India.
national hydrogen mission
#GS-3 #SCIENCE AND TECHNOLOGY
Context:
India has made an uncharacteristically early entry in the race to tap the energy potential of the most abundant element in the universe, hydrogen. India has announced a National Hydrogen Mission.
FEATURES:
And while proposed end-use sectors include steel and chemicals, the major industry that hydrogen has the potential of transforming is transportation.
Delhi became the first Indian city to operate buses running on hydrogen spiked compressed natural gas (H-CNG) in a six-month pilot project.
The buses will run on a new technology patented by Indian Oil Corp for producing H-CNG — 18 per cent hydrogen in CNG.
hydrogen — and its types:
Hydrogen exists only combined with other elements, and has to be extracted from naturally occurring compounds like water (which is a combination of two hydrogen atoms and one oxygen atom).
Although hydrogen is a clean molecule, the process of extracting it is energy-intensive.
Hydrogen produced from fossil fuels is called grey hydrogen; this constitutes the bulk of the hydrogen produced today.
Hydrogen generated from fossil fuels with carbon capture and storage options is called blue hydrogen; hydrogen generated entirely from renewable power sources is called green hydrogen.
In the last process, electricity generated from renewable energy is used to split water into hydrogen and oxygen.
The case for green hydrogen:
Green hydrogen has specific advantages.

One, it is a clean burning molecule, which can decarbonise a range of sectors including iron and steel, chemicals, and transportation.
Two, renewable energy that cannot be stored or used by the grid can be channelled to produce hydrogen.
India's electricity grid is predominantly coal-based and will continue to be so, thus negating collateral benefits from a large-scale EV push — as coal will have to be burnt to generate the electricity that will power these vehicles.
In several countries that have gone in for an EV push, much of the electricity is generated from renewables — in Norway for example, it is 99 percent from hydroelectric power.
Experts believe hydrogen vehicles can be especially effective in long-haul trucking and other hard-to-electrify sectors such as shipping and long-haul air travel.
Using heavy batteries in these applications would be counterproductive, especially for countries such as India, where the electricity grid is predominantly coal-fired.
How hydrogen fuel cells work?
Hydrogen is an energy carrier, not a source of energy.
Hydrogen fuel must be transformed into electricity by a device called a fuel cell stack before it can be used to power a car or truck.
A fuel cell converts chemical energy into electrical energy using oxidising agents through an oxidation-reduction reaction.
Fuel cell-based vehicles most commonly combine hydrogen and oxygen to produce electricity to power the electric motor on board. Since fuel cell vehicles use electricity to run, they are considered electric vehicles.
Inside each individual fuel cell, hydrogen is drawn from an onboard pressurised tank and made to react with a catalyst, usually made from platinum.
As the hydrogen passes through the catalyst, it is stripped of its electrons, which are forced to move along an external circuit, producing an electrical current.
This current is used by the electric motor to power the vehicle, with the only byproduct being water vapour.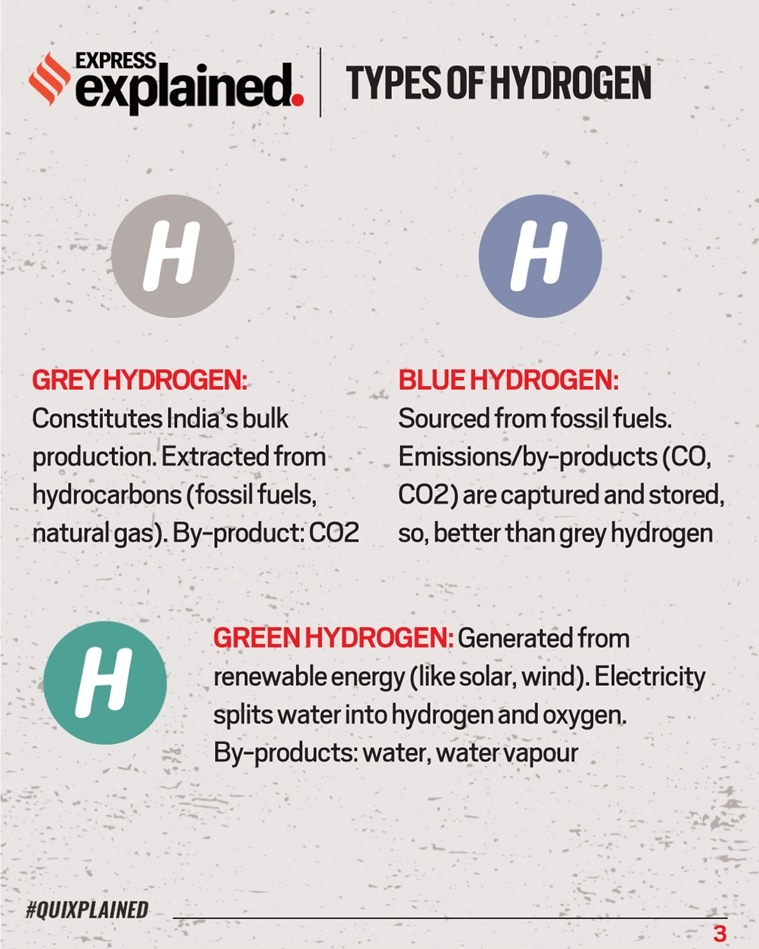 The problem of critical mass:
Despite its promise, hydrogen technology is yet to be scaled up. Tesla CEO Elon Musk has called fuel cell technology.different

A big barrier to the adoption of hydrogen fuel cell vehicles has been a lack of fueling station infrastructure — fuel cell cars refuel in a similar way to conventional cars, but can't use the same station.
Safety is seen as a concern. Hydrogen is pressurised and stored in a cryogenic tank, from there it is fed to a lower-pressure cell and put through an electro-chemical reaction to generate electricity.
Conclusion:
Scaling up the technology and achieving critical mass remains the big challenge. More vehicles on the road and more supporting infrastructure can lower costs. India's proposed mission is seen as a step in that direction.
blog comments powered by

Disqus