Electronic voting system
#Gs-2 #Gs-3 #Science And Technology # Elections #Governance.
Context
The Supreme Court sought a response from the Union government and the Election Commission of India on a petition seeking the setting up of a "secured remote electronic voting system" to allow citizens to cast their vote virtually.
Electronic Voting Machine in India
Recently, addressing a webinar organised by Tamil Nadu e-Governance Agency and the EC, Election Commission of India said that despite all efforts, voter participation had remained only around 67% in general elections.

A key factor contributing to this was the inability of the people, who had migrated from their native constituencies for various reasons, to vote.

Unless structural changes in the election processes were made, it would be difficult to increase participation.
'Vote from anywhere':
Director, IIT Madras, stressed on the need for the new remote voting system to not deviate much from the present electoral process followed.

The system must have mechanisms to gain confidence of not only the voters, but booth agents of parties and independent candidates as voters would be allowed to vote from anywhere.

While remote voting could help such people, including those outside the country, to vote from wherever they were, such a system must satisfy the highest standards of security and trustworthiness.

Today, we have electoral rolls of 90 crore voters in a single portal and online services are provided for registration.

Arguing that evolving a technology might not be difficult, what was important was to ensure transparency and trustworthiness.

It is to improve trustworthiness in the electronic voting machines (EVMs) that we had to bring VVPAT (Voter-verified Paper Audit Trail).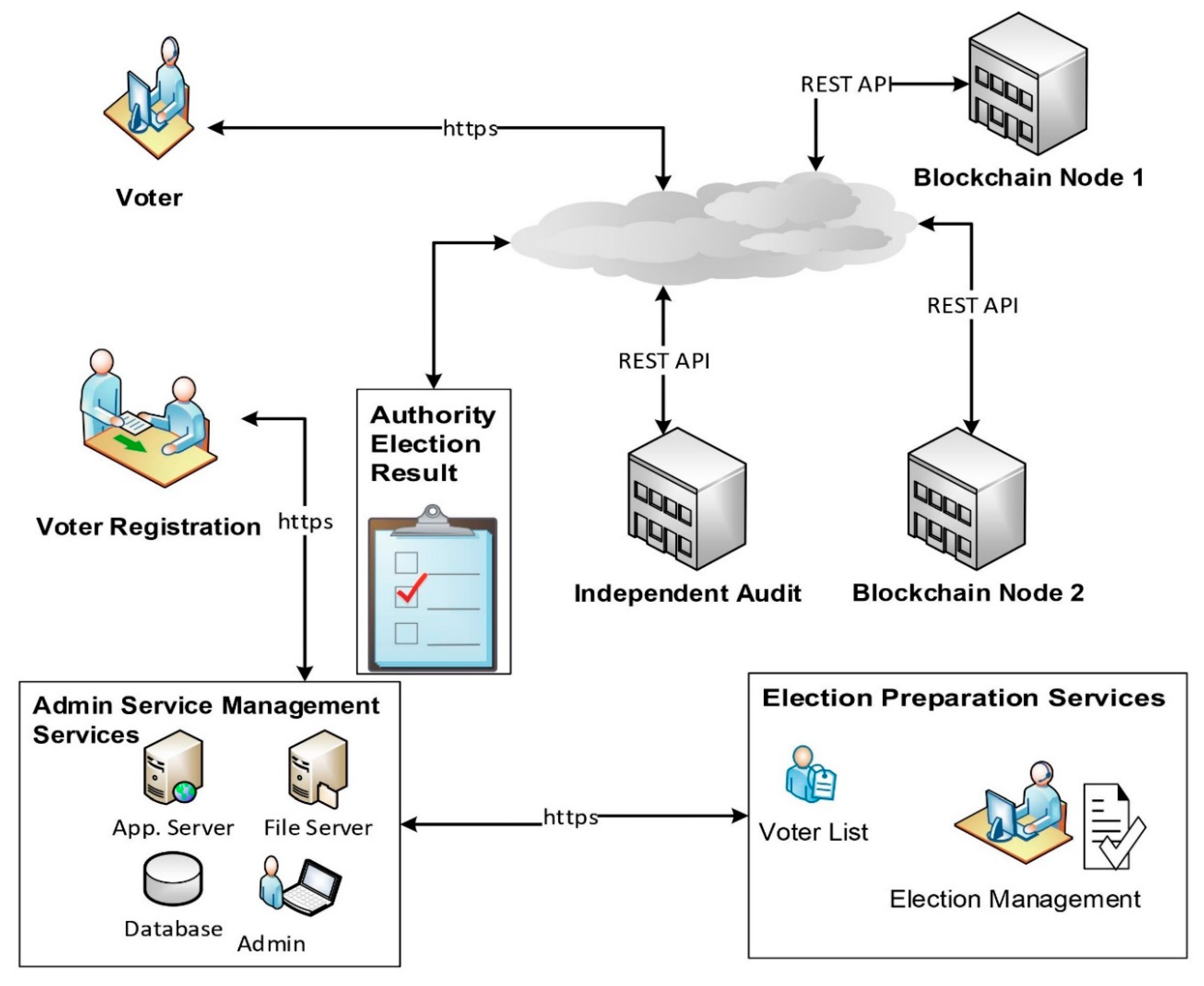 Remote voting with the help of Blockchain Technology
Remote voting, as an option, has gained some priority during the COVID-19 pandemic in order to address social distancing.

In the U.S., the mail-in ballot system, where registered voters receive ballots and returned it via post or dropped it off at secure "drop boxes" or voting centers, was widely used, but this was entirely paper based.

The blockchain method implements an online public bulletin board that allows for a linear ordering of data to which a user can only further append data.

The board itself is public and available for anyone to read and verify.

The technology has been put in use for cryptocurrencies the Bitcoin blockchain records a list of transactions that can be read to find out who owns which bitcoins without any centralised authority.

In the case of a blockchain-based voting system, the voting authority will have to authenticate this bulletin board in which users sign in using cryptographic signatures to register their votes in a ledger.

While this system, with its cryptographic features, promises data security and verifiability, the fact that it will depend upon a network and devices could introduce vulnerabilities that are present in any Internet-based system.
Concerns over the remote voting
A draft paper by MIT and Harvard researchers, in November 2020, has raised concerns about the designs of a remote blockchain-based voting system and pointed to serious vulnerabilities in some instances where it was tried out.

The paper also points out that beyond the vulnerabilities faced by any Internet-based system, blockchains also introduce issues related to complexity and their management.

The ECI would do well to exercise caution before deploying this method in elections, besides subjecting it to a rigorous public
Current Digital Voting Systems
A number of digital voting systems are currently in use in countries around the world.

Estonia has had electronic voting since 2005 and in 2007 was the first country in the world to allow online voting.

In the 2015 parliamentary election 30.5% of all votes were made though the nation's i-voting system.
Survey to address data gap on migrant workers
#Gs-2 #Polity And Governance #Policies And Intervention .
Context
The lack of data on workers, which was evident during the COVID-19-induced lockdown in 2020, would be addressed by the five all-India labour surveys being conducted by the Labour Bureau.
Data gap on migrant workers
According to census data, Uttar Pradesh and Bihar have a disproportionately high number of out-migrants, while migrants constitute more than one-third of the population in metros like Delhi and Mumbai.

According to the 2011 Census, Uttar Pradesh and Bihar are responsible for the most number of migrants as 20.9 million people migrated outside the state from the two states.

This is 37% of the total number of people who were inter-state migrants according to that enumeration.

Delhi and Mumbai are widely considered migrant magnets and the 2011 Census bears that out. According to it migrants from other states in Delhi and Mumbai numbered 9.9 million, or almost a third of the combined population of 29.2 million.

The Hindi belt is the main source of migrants. According to the census, four states, Uttar Pradesh, Bihar, Rajasthan and Madhya Pradesh accounted for 50% of India's total inter-state migrants.
On the other hand, Maharashtra, Delhi, Gujarat, Uttar Pradesh and Haryana housed 50% of the country's inter-state migrants.
These shares are much higher than the share of these states in India's total population.
Uttar Pradesh figures in both lists - while there are people who leave it in search of livelihoods, there are also clearly people who head for it in search of livelihoods.
Inter-state migrations in India
Uttar Pradesh has the highest share of out-migrants while Maharashtra has the highest share of in-migrants.

The number of inter-state migrants grew at 55% between the 1991 and 2001 Census.

This came down to just 33% between the 2001 and 2011 Census.
Reasons behind Migration
The reasons vary by gender, two-thirds of women migrated from their last place of residence because of marriage.

The gender-gap in migration for economic purposes (work, business and education) increases with the distance of migration.

For every woman who migrated for work, business or education, the number of men who migrated within district, across districts but within states and across states was 3.2, 4.3 and 7.4 respectively.

Among men, work and business account for one-third of total migrations, which is also the single largest reason for migration among men.

While migration for marriage among women is skewed towards closer distances, men do not seem to factor in distance while migrating for work.
ShramShakti Portal
Recently, the Ministry of Tribal Affairs has launched "ShramShakti"- a National Migration Support Portal, to smooth the formulation of state and national level programs for migrant workers.

A training manual "ShramSaathi" was also launched for migrant workers.

It has been launched to collect data related to tribal migrant workers and link them with the existing welfare schemes.
Objectives of Shram Shakti Portal:
Various data will be recorded via Shram Shakti include demographic profile, livelihood options, skill mapping and migration pattern.
It will help in empowering the workers who generally migrate in search of employment and income generation.
To help in formulation of strategies
It would help the national and state governments in formulation of effective strategies and policy decisions for welfare of migrant workers at both source and destination states.
To address the issues various related migrants:
✓ Trafficking,
✓ Wages harassment issues,
✓ Occupational hazards at the workplace, etc.
Linking with other schemes
✓ This portal will link the migrant population with the existing Welfare Schemes under Atma Nirbhar Bharat.
Recent Government Initiatives to Help Migrant Workers:
The Ministry of Skill Development and Entrepreneurship (MSDE) launched 'AtmaNirbhar Skilled Employee Employer Mapping (ASEEM)' portal to help skilled people find sustainable livelihood opportunities.

Database of labour migrants in Indian states and overseas citizens, who returned to India under the Vande Bharat Mission and filled SWADES Skill Card, has been integrated with the ASEEM portal
The National Disaster Management Authority (NDMA) has developed an online dashboard called 'National Migrant Information System (NMIS)'.
✓ It would maintain a central repository of migrant workers and help in speedy inter-state communication to facilitate the smooth movement of migrant workers to their native places.
Recently, numerous labour laws have been amalgamated into four labour codes namely -
■ Code on Wages Act 2019,
■ Industrial Relations Code 2020,
■ Code on Social Security 2020, and
■ Occupational Safety, Health and Working Conditions Code 2020.
They are also aimed at facilitating industrialisation throughout the nation and thus checking distress labour migration ultimately.
Quad meet: India, U.S. call for rule of law in Myanmar
# Gs-2 #IR # International Groupings
Context
India joined Australia, Japan and the United States for a ministerial meeting under the quadrilateral grouping during which key issues, including Myanmar, came up for discussion.

External Affairs Minister and U.S. Secretary of State said the military takeover in Myanmar featured in the talks and participants reiterated democratic values for the region.

India also emphasised in its statement that the meeting expressed commitment to "upholding rules-based international order" and "peaceful resolution of disputes".
Quad & India
The quadrilateral security dialogue includes Japan, India, United States and Australia.

All four nations find a common ground of being the democratic nations and common interests of unhindered maritime trade and security.

The idea was first mooted by Japanese Prime Minister Shinzo Abe in 2007.

However, the idea couldn't move ahead with Australia pulling out of it.
Significance of the grouping
Quad is an opportunity for like-minded countries to share notes and collaborate on projects of mutual interest.

Members share a vision of an open and free Indo-Pacific. Each is involved in development and economic projects as well as in promoting maritime domain awareness and maritime security.

It is one of the many avenues for interaction among India, Australia, Japan and the US and should not be seen in an exclusive context.
China's views on the Quad
There is a general understanding that the Quad would not take on a military dimension against any country. The strategic community in China, nevertheless, had branded it an emerging "Asian NATO".

Notably, Japanese PM Shinzo Abe's "Confluence of Two Seas" address to the Indian Parliament gave a fresh impetus to the Quad concept. This recognised the economic rise of India.
Assam developmental importance
#Gs-2 # Gs-1 # Welfare In Northeastern States.
Context
Prime Minister said the Centre had taken up various development projects to correct the historical mistakes of neglecting Assam.

He underlined the Centre's commitment to infrastructure development in the State while virtually launching 'Mahabahu Brahmaputra', a package of multi-modal water connectivity projects that includes a 19.282 km bridge which will be India's longest across a river.
Connectivity remained a challenge
Assam was one of the States giving the highest revenues. Those days, petroleum products and tea used to reach the Chittagong port (in present-day Bangladesh) and Kolkata via Brahmaputra, Padma and Meghna rivers and the railway.

Connectivity was the reason behind Assam's prosperity. But after Independence, when this infrastructure was supposed to be modernised, Assam was left to its fate.

Connectivity remained a challenge because work on connectivity via the Brahmaputra did not happen.

Now, work is being expedited. The double engines of Assam and Central government tried to reduce the geographical and cultural distances.
'Mahabahu Brahmaputra' Project:
The Central Government has laid the foundation of Mahabahu-Brahmaputra project to initiate various developmental activities in the eastern parts of the country (especially the Brahmaputra and the surrounding areas of the Barak River) and to provide seamless connectivity to the region.

Under this project, the foundation stone of a four-lane bridge over the Brahmaputra River between Dhubri (North Coast) and Phulbari (South Coast) will be laid.

The proposed bridge will be located on NH-127B, which originates from Shrirampur on NH-27 (East-West Corridor) and terminates at Nongstoin on NH-106 in Meghalaya.

It will connect Dhubri in Assam to Phulbari, Tura, Rongram and Rongjeng in Meghalaya.

Along with this, the foundation stone of a two-lane bridge on the Brahmaputra River between Majuli (North

Coast) and Jorhat (Southern Coast) will also be laid.

The bridge will be located on NH-715K and will connect Nemtighat (towards Jorhat) and Kamalabari (towards Majuli).

The project includes bridge construction along with Ro-pax vessel operations between Nemati-Majuli Island, North-Southern Guwahati and Dhubri-Hatsingimari .

The ' Portal for Asset and Navigation Information- PANI' will act as a single-stop solution to provide information related to the navigation of rivers and their nature .
Heavier Exercise Duties On Fuel Price Hike
#Gs-3 # Indian Economy # Energy
Context
The Left parties have slammed the yet another hike in excise duties on fuel, saying the hikes were meant to offset
the losses to government revenue due to the tax concessions provided to corporates and were punishing the common man.
Why are the prices of petrol and diesel rising in India?
Retail prices of automobile fuels have reached record highs across the country.

Retail petrol and diesel prices are in theory decontrolled or linked to global crude oil prices.

Which means that if crude prices fall, as has largely been the trend since February, retails prices should come down too, and vice versa.

By sharply hiking excise duty as global oil prices fell, the government has practically controlled the price of the auto fuels, mopping up any savings that may have accrued to consumers owing to low global prices.

The government does this to boost revenues.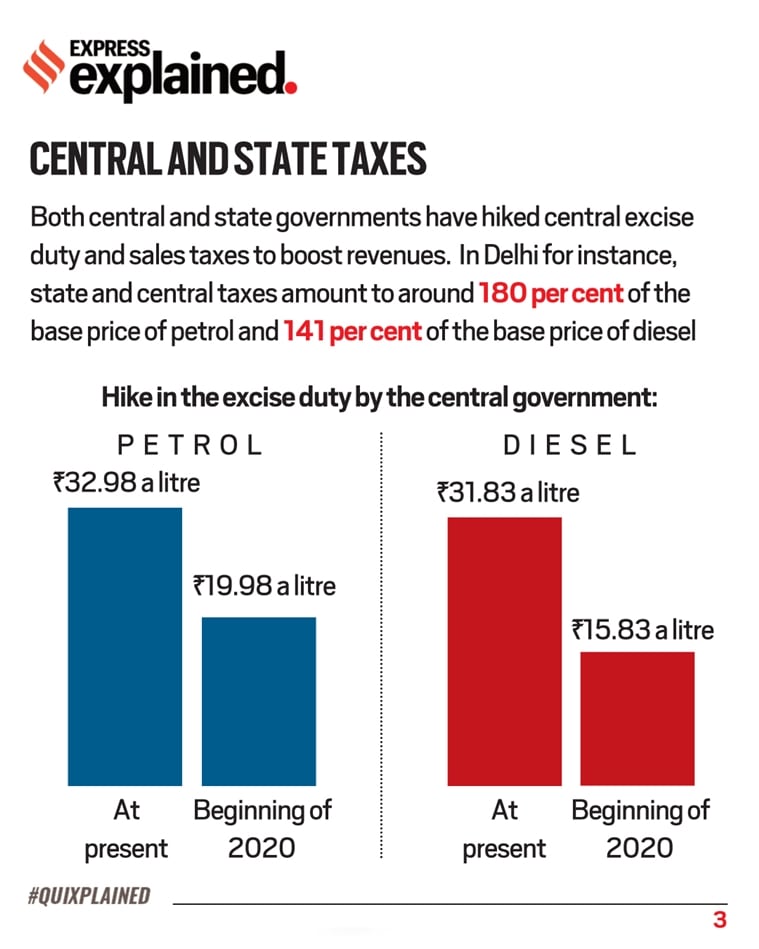 Directives for OmCs and consumers
Oil Marketing Companies (OMCs) are free to set prices for petrol and diesel based on international prices on paper.

Increase in central levies has meant that the consumer hasn't benefited from low international prices and has ended up bearing the cost of rising crude oil prices.

The urban population would be more impacted by rising fuel prices than the rural population however, a weak monsoon may lead to rural India being hit as farmers are forced to rely more on diesel-

powered irrigation.
Why crude oil prices are rising now?
Prices collapsed in April 2020 after the pandemic spread around the world, and demand fell away.

But as economies have reduced travel restrictions and factory output has picked up, global demand has improved, and prices have been recovering.

The controlled production of crude amid rising demand has been another key factor in boosting oil prices, with Saudi Arabia voluntarily cutting its daily output by 1 million barrels per day to 8.125 million barrels per day through February and March.
Oil and India
In theory, retail prices of petrol and diesel in India are linked to global crude prices.

There is supposed to be complete decontrol of consumer-end prices of auto fuels and others such as the aviation turbine fuel or ATF.

It means that if crude prices fall, as has largely been the trend since February, retails prices should come down too, and vice versa.

Oil price decontrol is a one-way street in India - when global prices go up, this is passed on to the consumer, who has to cough up more

for every litre of fuel consumed.

But when the reverse happens and prices go down, the government - almost by default - slaps fresh taxes and levies to ensure that it rakes in extra revenues, even as the consumer, who should have ideally benefited by way of lower pump prices.
PIB ANALYSIS
Sandes Inidias Instant Messaging Platform.
#Gs-1 # Prelims Fact
Sandes is an instant messaging platform that has been launched by the National Informatics Centre (NIC). The app has been developed on the lines of WhatsApp. Sandes can be used for all kinds of communications by any person having a mobile number or email id.
Key Points
The interface of the instant messaging app Sandes is similar to many existing apps.

There is no option to transfer chat history from any platform to Sandes but users can back up their chats on government instant messaging systems or GIMS on their emails.

Sandes has an additional safety feature that allows a user to mark a message as confidential.

Thus, it will notify the recipient that the message sent is not to be shared with others.

However, this confidential tag does not change the way the message is sent from one user to another.

As a limitation of the app, it does not allow users to change their registered mobile number or email ID.

A user will be required to re-register as a new user in case they wish to change their registered email id or phone number on the app.

The Sandes app has been launched as the government felt the need to build a platform to ensure secure communication between its employees as they worked from home. Last year, the Ministry of Home Affairs has also issued an advisory to government employees to avoid using platforms like Zoom for official communication.

NIC released the 1st version of the app in August 2020, only for central and state government officials. Now the app has been released to the common public as well.
World Solar Bank
# Gs3 # Infrastructure # Prelims Fact
The International Solar Alliance (ISA) is planning to launch the World Solar Bank (WSB) at the United Nations Climate Change Conference in Glasgow in November 2021. This will be a step towards India's attempt to become a leader in the climate arena
Key Points
The development of the World Solar Bank (WSB) is significant as green finance will be among priority themes at the climate meet called COP-26.

ISA Director General Upendra Tripathy said that they are aiming to launch a Green Grid Initiative (GGI), a Sun Charter, and the World Solar Bank at COP-26 at Glasgow.

World Solar Bank (WSB) is expected to be headquartered in India.

Along with the plan for setting up the WSB, ISA is the nodal agency for implementing the global electricity grid plan of India, One Sun One World One Grid (OSOWOG).

OSOWOG aims to transfer solar power generated in one region to feed the electricity demands of others.

Green Grid Initiative (GGI) is a joint effort of Climate Parliament and ISA to display India's Green Energy Corridor (GEC) as an example to the world.

It will also encourage all member countries to emulate India's GEC and integrate them into OSOWOG.

A consortium led by French state-run power utility firm EDF and including India's The Energy and Resources Institute (Teri) and France's AETS has been given the task of creating the road map for the global grid OSOWOG.

The ISA is the first treaty-based international government organization headquartered in Gurugram, India. It was co-founded by India and France in the year 2015 at a climate change conference in Paris.
blog comments powered by

Disqus