INDEX :
1. U.S. to keep a hard line on China trade
2. MINING IN ARAVALI HILLS
3. GST collection rose 7% in Feb. to 1.13 lakh cr.
4. RECYCLING OF E-WASTE
5. Swachh Bharat Mission (PHASE 2 )
PIB SUMMARY:
1. Rashtriya Sanskriti Mahotsav 2021
2. Sugamya Bharat App
U.S. to keep a hard line on China trade
#GS- 2 #Bilateral Groupings & Agreements Important #International Institutions #International Treaties & Agreements
Context
The Biden administration's trade agenda will make pandemic recovery a top priority and focus on the American worker, according to the 2021 President's Trade Agenda and 2020 Annual Report, an annual document submitted by the U.S. Trade Representative (USTR) to Congress.
The administration will push for labour standards in its trade agreements, negotiate environmental standards and address China's "coercive and unfair" trade practices.
Ramifications on workers:
The Biden Administration will review past trade policies for their impacts on, and unintended consequences for, workers.

Workers will have a seat at the table as the Biden Administration develops new trade policies that promote equitable economic growth by including strong, enforceable labor standards in trade agreements that protect workers" rights and increase economic security.

The Administration will engage allies to secure commitments to fight forced labor and exploitative labor conditions, and increase transparency and accountability in global supply chains.

The Biden administration's trade priorities will also include negotiating and implementing "strong environmental standards".

It will also seek to promote equitable economic growth through trade.

The impact of trade policy on racial minorities within the U.S. will also be a priority.

The new administration is also likely to follow an aggressive agricultural trade policy.

The trade agenda will seek to expand global market opportunities for American farmers, ranchers, food manufacturers, and fishers and will defend our producers by enforcing global agricultural trade
Repeals on China
China's "coercive and unfair trade practices harm American workers, threaten our technological edge, weaken our supply chain resiliency, and undermine our national interests".

The ongoing comprehensive review of U.S. trade policy towards China is integral to the development of the Administration's overall China strategy," committing to using all tools available to counter practices it calls unfair and harmful to the U.S.
Addressing human rights abuses against the Uighurs and others will be a top priority for the administration, as per the report.

It will also collaborate with allies to address the market distortions created by industrial overcapacity issue.

Key sectors range from steel and aluminum to fiber optics, solar, and other sectors where the Chinese Government has been a key contributor.
BIASA BASICS:
Reforms at WTO
The U.S. will work with allies to " implement necessary reforms to the World Trade Organisation"s (WTO) substantive rules and procedures to address the challenges facing the global trading system, including growing inequality, digital transformation, and impediments to small business trade".

The Administration will work with allies and like-minded trading partners to establish high-standard global rules to govern the digital economy, in line with our shared democratic values.

Where gaps exist in international trade rules, the United States will work to address them, including through enhanced cooperation with our partners and allies.
Issues Related to WTO
China's State Capitalism
The nature of China"s economic system, combined with the size and growth of its economy, has created tensions in the global trading system.

China"s state-owned enterprises present a major challenge to the free-market global trading system.

However, a critical part of the problem is that the rulebook of the WTO is inadequate for addressing the challenges that China presents in respect of intellectual property, state-owned enterprises and industrial subsidies.

It is due to this US-China are engaged in Trade war.
Institutional Issues
The Appellate Body"s operations have effectively been suspended since December 2019, as the US"s blocking of appointments has left the body without a quorum of adjudicators needed to hear appeals.

The crisis with the dispute settlement function of the WTO is closely linked to the breakdown in its negotiation function.
Lack of Transparency
There is a problem in WTO negotiations as there is no agreed definition of what constitutes a developed or developing country at the WTO.

Members can currently self-designate as developing countries to receive "special and differential treatment" - a practice that is the subject of much contention.
E-commerce & Digital Trade
While the global trade landscape has changed significantly over the past 25 years, WTO rules have not kept pace.

In 1998, realizing that e-commerce would play a growing role in the global economy, WTO members established a WTO e-commerce moratorium to examine all trade-related issues relating to global electronic commerce.

Recently, however, the moratorium has been called into question by developing countries because of its implications for collecting revenue.

Moreover, as the Covid-19 pandemic accelerates the shift to e-commerce, rules to regulate online trade will be more important than ever. But in contrast to trade in goods and services, few international rules govern cross-border e-commerce.
Agriculture and Development
The WTO Agreement on Agriculture, which came into force in 1995, was an important milestone.

Agreement on Agriculture targets reform of subsidies and high trade barriers, which distort agricultural trade.

However, agreement on agriculture is facing issues due to food security and development requirements for developing countries like India.
Way Forward :
New Set of Rules
Modernizing the WTO will necessitate the development of a new set of rules for dealing with digital trade and e-commerce.

WTO members will also have to deal more effectively with China"s trade policies and practices, including how to better handle state-owned enterprises and industrial subsidies.
Environmental Sustainability as a major goal.
Given the pressing issues around climate change, increased efforts to align trade and environmental sustainability could help to both tackle climate change and reinvigorate the WTO.

Trade and the WTO have key roles to play in efforts to achieve the UN Sustainable Development Goals (SDGs) and the Paris Agreement climate goals.

Also, the WTO can play a role in reforming fossil fuel subsidies.

For example, at the Buenos Aires Ministerial Conference in 2017, a coalition of 12 WTO members led by New Zealand called on the WTO "to achieve ambitious and effective disciplines on inefficient fossil fuel subsidies that encourage wasteful consumption"
MINING IN ARAVALI HILLS
#GS-1 #GEOGRAPHY #LANDFORMS
Context
The Haryana government has appealed to the Supreme Court to permit it to resume mining in the Aravali Hills on the grounds that the pandemic had ground the State"s economy to a halt.

Mining in the region has been banned since 2002 under the Supreme Court orders, unless expressly permitted by the Union Environment Ministry. However, mining continued illegally.
Illegal mining
A 2018 report by a Supreme Court-appointed Central Empowered Committee (CEC) said 25% of the Aravalli range has been lost due to illegal mining in Rajasthan since 1967-68.

The Haryana government had proposed to allow mining activities in 600 hectares.

Following the move, an environmentalist filed his own petition on Monday requesting the court to allow him to "intervene" in the ongoing writ petition.

The Aravali Hills spanning Gujarat, Rajasthan, Haryana and Delhi are an ecologically sensitive zone but have for years borne the brunt of quarrying and environmental degradation.

The consequences of this mining has been a destruction of aquifers and deforestation.
COMPLETE SNIPPET ABOUT MINING (IMPORTANT MAKE NOTE ON THEM)
Mining in Aravali Hills
In February 2019, the Haryana legislative assembly amended the Punjab Land Preservation Act (PLPA) which was effectuated in 1900 for "conservation of sub-soil water" and "prevention of erosion," by giving the state the power to "regulate, restrict or prohibit" certain activities, including "clearing or breaking up" of land.

This amendment also removed several hills of the Aravalli range from the category of "restricted area," making around 63,000 acres of the Aravalli range available for construction and mining activities.

By the same amendment, the Haryana government also attempted to legitimise several illegal constructions in the range.

However, the Supreme Court, through an order, promptly nullified the amendment.
The Hazards of Mining
More than 25% and 31 hill ranges of the Aravallis in Rajasthan had vanished due to illegal quarrying.

Loss of a great number of flora and fauna like leopards, striped hyenas, golden jackals, nilgais, palm civets, wild boar,

Many rivers originating in the Aravalli like Banas, Luni, Sahibi and Sakhi, are now dead.

A serious ecological impact of digging or mining to a great depth is puncturing of aquifers, which disturbs the water flow, results in drying of lakes and popping up of new ones. Many water bodies such as famous Badkhal lake has been dried up and new water bodies due to depression left by illegal miners are popping up thus creating an environmental imbalance.

The major reason for air pollution in the NCR region is particulate matter, especially Respirable Particulate Matter (RPM), a direct contribution of mining,and crushing.

Man-wild animal conflict as natural forests along aravallis are being lost.

The hydrological system and consequent water table in the whole NCR region is under threat, with altered natural drainage patterns.

The price of the exploitation of such natural resources will also be paid by future generations.

Therefore, it is necessary to track down the transfer of the Aravalli range-related equity from one generation to the next in the legal context.

The concept of "intergenerational equity" was introduced in the Stockholm Declaration.

The natural resources of the earth, including the air, water, lands, flora and fauna and especially representative samples of natural ecosystems, must be safeguarded for the benefit of the present and future generations through careful planning or management, as appropriate.

Further, the concept was elucidated in the Rio Declaration that states: The right to development must be fulfilled to equitably meet developmental and environmental needs of present and future generations.
The Supreme Court's Ruling and Legal Notifications
Like mining in Rajasthan, the illegal construction activities in Haryana shocked the Supreme Court in 2018. Although the Supreme Court categorically banned real estate activities in the Aravalli range falling under Haryana, the Haryana government not only gave a nod to the construction projects, but also actively aided in the running of these projects.

The Supreme Court has laid down the "precautionary principle," stating that the central and/or the state governments, while considering a project, must foresee environmental degradation and shall prevent such degradation without waiting for scientific evidence to show that there will be irreparable damage to the environment (Vellore Citizens Welfare Forum v Union of India and Others 1996).

In 2010, the term "precautionary principle" was adopted by the National Green Tribunal (NGT).

Section 20 of the NGT Act, 2010 specifically states that the tribunal can apply the precautionary principle while passing any order, decision, or award.

MoEFCC issued an unprecedented notification on May 7, 1992, known as "The Aravalli Notification".

This notification clearly prohibits the setting up of new industries, mining, deforestation as well as construction activities, including roads and laying of transmission cables, without the prior permission from MoEFCC.
Supreme Court Orders
1992: Approval from the Central government would be needed for all mining and industrial activity in the Aravalli region.
1996: Mining leases could not be renewed within 2Km to 5Km radius of Badkhal lake without permission from the central and state pollution control boards.
2002: Banned mining activities in Haryana following large scale degradation in Faridabad and neighbouring areas.
2009: Banned mining throughout the Aravallis again.
2018: ordered for complete demolition of the Kant enclave, residential complex of about 424.84 acres in the forest range of Aravalli, and directs the company to fully reimburse those who invested in the property.
Constitutional/ Legal Framework of Mining Sector in India
The entry at serial No. 23 of List II (State List) to the Constitution of India mandates the state government to own the minerals located within their boundaries.

The entry at serial No. 54 of List I (Central List) mandates the central government to own the minerals within the exclusive economic zone of India (EEZ).

In pursuance to this Mines & Minerals (Development and Regulation) (MMDR) Act of 1957 was framed.

Also, the Central Government notifies certain minerals as 'minor' minerals from time to time for which the absolute powers for deciding on procedures of seeking applications for and granting mineral concessions, fixing rates of royalty, dead rent, and power to revise orders rest only with the State Government.

Example of minor minerals include building stones, gravel, ordinary clay, ordinary sand.

For minerals specified in the First Schedule to the Mines and Minerals (Development and Regulation) Act, 1957 approval of the Central Government is necessary.

Schedule I contains minerals such as coal and lignite, minerals of the "rare earths" group containing Uranium and Thorium.
GST collection rose 7% in Feb. to 1.13 lakh cr.
#GS-3 #ECONOMY #GST REFORMS.
Context
Gross GST collections in February grew 7% year-on-year to ₹1.13 lakh crore, marking the third consecutive month of the collections crossing ₹1.1 lakh crore.

Revenues from goods imports grew 15% in the month and revenues from domestic transactions (including import of services) expanded 5% over February 2020.
Key points
Terming the improved collections "a clear indication of the economic recovery and the impact of various measures taken by tax administration to improve compliance", the Ministry pointed out that GST revenues had crossed ₹1 lakh crore "fifth time in a row post pandemic".

Among the major States, Odisha saw the highest surge in GST revenues of 20% in February, followed by 14% in Gujarat, 12% in Jharkhand, 10% in West Bengal and Rajasthan, and Tamil Nadu recording a 9% growth.

A favourable base effect is likely to result in the CGST collections expanding by 18-23% in March 2021.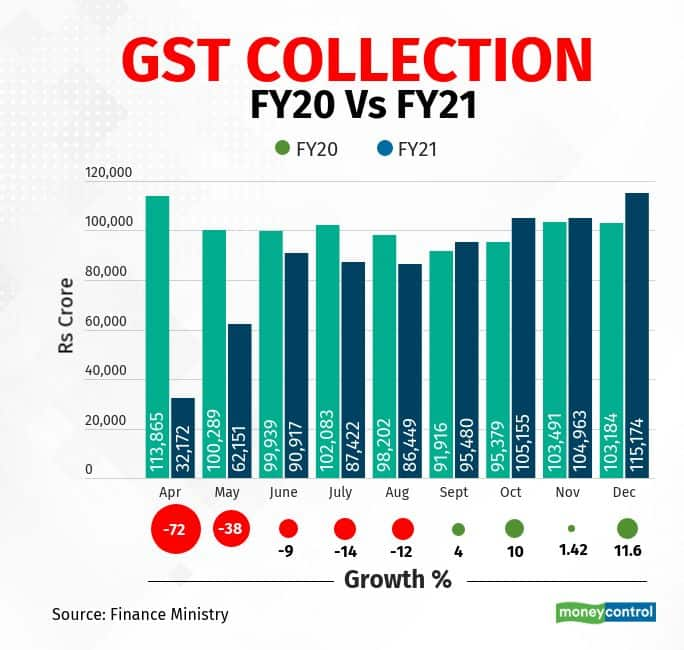 RECYCLING OF E-WASTE
#GS-3 #ENERGY #TECHNOLOGY
Context
To deal with one of the

fastest-growing

waste streams, researchers at Indian Institute of Technology, Delhi have developed a zero-emission technology to manage and recycle e-waste to wealth.

A team have adopted a methodology that uses e-waste as an "Urban Mine" for metal recovery and energy production.
Excerpts of New technology
Using their method, e-waste is shredded and pyrolyzed to yield liquid and gaseous fuels, leaving behind a metal-rich solid fraction.

On further separation using a novel technique, the leftover solid residue yields a 90-95% pure metal mixture and some carbonaceous materials.

The carbonaceous material is further converted to aerogel for oil spillage cleaning, dye removal, carbon dioxide capture, and use in supercapacitors.

The technology is an outcome of a Department of Science and Technology, Government of India, funded project and developed technology will cater to the need of "Smart Cities," "Swachh Bharat Abhiyan," and "Atmanirbhar Bharat" initiatives of the government.
E-Waste
E-Waste is short for Electronic-Waste and the term is used to describe old, end-of-life or discarded electronic appliances. It includes their components, consumables, parts and spares.

It is categorised into 21 types under two broad categories:

Information technology and communication equipment.

Consumer electrical and electronics.

Laws to manage e-waste have been in place in India since 2011, mandating that only authorised dismantlers and recyclers collect e-waste. E-waste (Management) Rules, 2016 was enacted in 2017.

India"s first e-waste clinic for segregating, processing and disposal of waste from household and commercial units has been be set-up in Bhopal, Madhya Pradesh.
Electronic Waste Management
Citing huge gaps in compliance of electronic waste-management rules, the National Green Tribunal (NGT) has recently ordered that scientific disposal of e-waste should be ensured as per rules.

The direction has been issued to central and all state pollution control boards.
E-waste Generation in India
According to the Central Pollution Control Board (CPCB), India generated more than 10 lakh tonnes of e-waste in 2019-20, an increase from 7 lakh tonnes in 2017-18.

Against this, the e-waste dismantling capacity has not been increased from 7.82 lakh tonnes since 2017-18.

In 2018, the Ministry of Environment had told the tribunal that 95% of e-waste in India is recycled by the informal sector and scrap dealers unscientifically dispose of it by burning or dissolving it in acids.
NGT's Directions
Further steps should be taken for scientific enforcement of E-Waste Management Rules, 2016 (EWMR) in the light of the reports of the CPCB.

It noted gaps in collection targets, as the amount of e-waste collected in 2018-19 was 78,000 tonnes against a target of 1.54 lakh tonnes. There are clear governance deficits on the subject.

The CPCB may consider steps for compliance of Rule 16 requiring reduction in the use of Hazardous substances in the manufacture of electrical and electronic equipment and their components or consumables or parts or spares.

It took note that a large number of accidents take place in residential areas on account of unscientific handling of e-waste.

This needs special attention for constant vigilance in such hotspots.

This also requires review and updation of siting norms for e-waste by the CPCB which may be done within three months.

All the state pollution control boards need to identify the hotspots by constant vigil and to coordinate with the District Administration at local levels to prevent damage to the environment and public health and meaningful enforcement of rule of law.
E-Waste Management Rules, 2016
The Ministry of Environment, Forest and Climate Change notified the E-Waste Management Rules, 2016 in supersession of the E-waste (Management & Handling) Rules, 2011.

Over 21 products (Schedule-I) were included under the purview of the rule.

It included Compact Fluorescent Lamp (CFL) and other mercury containing lamps, as well as other such equipment.

For the first time, the rules brought the producers under Extended Producer Responsibility (EPR), along with targets. Producers have been made responsible for the collection of E-waste and for its exchange.

Various producers can have a separate Producer Responsibility Organisation (PRO) and ensure collection of E-waste, as well as its disposal in an environmentally sound manner.

Deposit Refund Scheme has been introduced as an additional economic instrument wherein the producer charges an additional amount as a deposit at the time of sale of the electrical and electronic equipment and returns it to the consumer along with interest when the end-of-life electrical and electronic equipment is returned. The role of State Governments has been also introduced to ensure safety, health and skill development of the workers involved in dismantling and recycling operations.

A provision of penalty for violation of rules has also been introduced.

Urban Local Bodies (Municipal Committee/Council/Corporation) have been assigned the duty to collect and channelize the orphan products to authorized dismantlers or recyclers.

Allocation of proper space to existing and upcoming industrial units for e-waste dismantling and recycling.
Swachh Bharat Mission (PHASE 2 )
#GS-3 #WELFARE SCHEMES #WATER SEGREGATION
Context
The Ministry of Housing and Urban Affairs (MoHUA), which is currently awaiting Cabinet approval for financial proposals for the second phase of Swachh Bharat Mission (SBM), launched the sixth edition of the annual Swachh Survekshan.

The second phase of the SBM, announced in the Union Budget, will be responsible for sewage management in all cities that have less than 1 lakh population.
Waste segregation
A major focus will be the segregation of waste at the source.

However, the Centre will not be contributing funds for the sewage system component of this phase.

The other mandates of the second phase of SBM will target legacy landfills, single-use plastic, and construction and demolition waste.

As for the Swachh Survekshan, the survey assesses waste segregation, wet waste processing capacity, dry waste recycling, construction and demolition waste processing, and landfill waste.

A total of 350 surveyors organised by the Quality Council of India will randomly visit cities across the country throughout March to assess them according to sanitation parameters.
State ranking
For its state rankings, the survey will weigh which cities are Open Defecation Free (ODF), ODF+ (when the toilets are maintained), ODF++ (when sewage systems operate) as well as their garbage-free rating.

They will also be given Prerak Dauur Samman awards of divya (platinum), anupam (gold), ujjwal (silver), udit (bronze), and aarohi (copper / aspiring).

For the first time, districts (subsuming municipal corporations, municipalities, and town areas) will also be assessed on the basis of their underlying urban local bodies.

The Mission is working around election dates to ensure their survey does not have any violations.

The Mission is planning on creating uniforms "like policemen" for "safaimitras".

Mysuru won the first Swachh Survekshan while Indore has won the last three, as the survey expanded from 73 cities in 2016 to 4,242 cities in 2020. The 2020 winner will be announced soon.

The Mission is currently framing the guidelines for Swachh Survekhshan 2022, which will be more "citizen centric" and have more importance on technological solutions.
What is ODF+, ODF++?
ODF+ and ODF++ were launched in August 2018 to further scale up and sustain the work undertaken by the cities after achieving the ODF status under Phase I of the Swachh Bharat Mission - Urban (SBM-Urban).

Eligibility: Cities that had been certified ODF at least once, on the basis of the ODF protocols, are eligible to declare themselves as SBM-ODF+ & SBM-ODF++.

ODF+ and ODF++ are aimed towards proper maintenance of toilet facilities and safe collection, conveyance, treatment/disposal of all faecal sludge and sewage.
PIB SUMMARY
Rashtriya Sanskriti Mahotsav 2021
#PRELIMS FACT
Why in News
The third and final leg of 11th edition of the Rashtriya Sanskriti Mahotsav 2021 took place at Murshidabad, West Bengal.

Various colourful performances were given by the local artists, including 'Baul Gaan', 'Alkup Gaan', 'Leto gaan', 'Jhumuriya' and Ranpa folk dances.
Key Points
Rashtriya Sanskriti Mahotsav is the flagship festival of the Ministry of Culture.

It has been organized since 2015 with the active participation of Seven Zonal Culture Centres.

It was started with an intention to exhibit the rich cultural heritage of the country in all its rich and varied dimensions namely, Handicrafts, Cuisine, Painting, Sculpture and Performing Arts- Folk, Tribal, Classical and Contemporary- all at one place.
Significance:
It has been playing a pivotal role to take the vibrant culture of India out to the masses instead of confining it to auditoria and galleries.

It has been instrumental in showcasing folk and tribal art, dance, music, cuisines & culture of one state in other states reinforcing the cherished goal of "Ek Bharat Shreshtha Bharat".

It also provides an effective platform to the artists and artisans to support their livelihood.

It reconnects the people (especially the youth) with their indigenous culture, its multifaceted nature, magnificence, and historical importance in the context of 'India as a Nation' over the millennia.

Till date, Rashtriya Sanskriti Mahotsavs have been held at various places such as Delhi, Varanasi, Bengaluru, Tawang, Gujarat, Karnataka, Tehri and Madhya Pradesh.
Sugamya Bharat App
#GS-3 #SCHEMES #PRELIMS FACT
Thaawarchand Gehlot, the Union Minister for Social justice and Empowerment, will launch the "Sugamya Bharat App" and a handbook entitled "Access – The Photo Digest" at a virtual conference on March 1.
Key Points
The Sugamya Bharat App and the handbook have been developed by the Department of Empowerment of Persons with Disabilities (DEPwD) under the Ministry of Social Justice and Empowerment.
The Mobile App will be initially available at the Google Play Store for Android users. The IoS version of the App will be launched by 15th March 2021.

Sugamya Bharat App is a crowdsourcing application for increasing accessibility in the 3 pillars of the Accessible India Campaign i.e. built environment, transportation sector, and ICT ecosystem in India.

The app provides 5 main features, 4 of which are directly related to enhancing accessibility, while the 5th one is a special feature meant only for Divyangjan for COVID-related issues.

The features are the registration of complaints of inaccessibility across the 3 broad pillars of the Sugamya Bharat Abhiyaan; Departmental updates; positive feedback of examples and best practices worth emulating being shared by people as jan-bhagidhari; and guidelines and circulars related to accessibility.

The mobile app is simple and has an easy registration process. People can register by simply entering their Name, Mobile Number, and Email-id.

Registered users will be able to raise issues related to accessibility being faced.

Some of the user-friendly features of the app are easy drop-down menus, videos in Hindi and English, along with sign language interpretation, which has been added demonstrating the process of registration and uploading complaints with photographs.

The app is available in 10 regional languages, namely, Hindi, English, Tamil, Marathi, Odiya, Telugu, Kannada, Punjabi, Gujarati, and Malayalam.

The App also provides a facility of easy photo uploads with a geotagging option of the premise where accessibility intervention is required.
The Department of Empowerment of Persons with Disabilities has also prepared a handbook entitled "Access – The Photo Digest" which has a collection of photographs from across different States and UTs. This Book is envisaged as a tool and guide to sensitize stakeholders about 10 basic features of accessibility and related good-bad practices in easy-to-understand pictorial form. The electronic version of this handbook will also be available on the App and the website of the Department.
blog comments powered by

Disqus